For the past three decades Noel Pearson has been recognised as one of Indigenous Australians' most important leaders. But he has also come to be seen as one of our country's most significant thinkers, notable for his intellectual penetration and originality as well as for his courage—his independence from both the Left and the Right.
In the late 1990s Noel Pearson broke through a taboo by speaking openly about the damage alcohol, drugs and welfare dependency were doing to his people. Working closely with the Cape York communities, and with an emphasis on the solid education of the young, he has pioneered an experiment aimed at finding a new way for his people: full engagement in the globalised economy without the surrender of cultural identity.
Noel will be joined by Professor Megan Davis, a distinguished member of the younger generation of Indigenous leaders.
You are invited to join us in a conversation with one of our most exciting public intellectuals, on a question that will help determine Australia's future—the relations between its Indigenous and non-Indigenous peoples.
Thursday 14 June
6.45 – 8.15pm
Melbourne Convention and Exhibition Centre
$15 student tickets
Speakers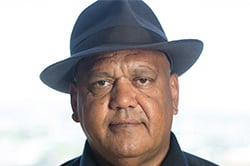 Noel Pearson comes from the Guugu Yimidhirr community of Hope Vale on south eastern Cape York Peninsula. Mr Pearson is a lawyer, and Founder and Director of Strategy of the Cape York Partnership. Mr Pearson also co-founded the Cape York Land Council, and helped to establish Apunipima Health Council, Balkanu Cape York Development Corporation and Indigenous Enterprise Partnerships. Mr Pearson served as a member of the Expert Panel on Constitutional Recognition of Indigenous Australians and the Referendum Council.
Professor Megan Davis is Pro Vice Chancellor Indigenous and Professor of Law, UNSW. Prof Davis is an expert member of the United Nations Human Rights Council's Expert Mechanism on the Rights of Indigenous Peoples. Prof Davis is a constitutional lawyer who was a member of the Referendum Council and the Expert Panel on the Recognition of Aboriginal and Torres Strait Islander Peoples in the Constitution. Megan is a Fellow of the Australian Academy of Law and the Australian Academy of Social Sciences and a Commissioner on the Australian Rugby League Commission. Megan supports the North Queensland Cowboys and the QLD Maroons.